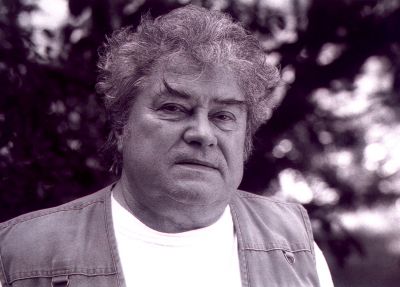 LÍVIUSZ GYULAI (1937–2021) 
Standing beside the coffin of Líviusz Gyulai, I started to say my farewells to him:
"When I learned that the spirit of my friend, Líviusz, had returned to his Creator, I suddenly recalled an event from seven years ago. I was walking in a eucalyptus forest in Australia with a Hungarian entomologist, or bugologist, friend of mine who lived there, when an enormous tree fell about 10 metres behind us with a terrifying creaking and crackling sound, first as if in slow motion, then gradually speeding up and finally crashing into the thick layer of fallen leaves, breaking and crushing everything in its way. 'That is how these trees die', my friend said to me, 'with dignity'. They stand tall and serve others until the very last minute. They provide oxygen, a home, nutrition, a resting place and some shade for myriad living things, and when their time is up, at a certain moment they abandon themselves to decay without any resistance."
Líviusz's wife, who Líviusz called Emmyke, and who spent the last eleven days with her husband in a hospital room, said that Líviusz remained very calm until the end, and that he was considerate and gentle with her. He was not preparing to die. He talked about the next parts of his animation film and some other plans, and there was no sign of suffering on his face even after he passed on. Emmyke thought his expression was calm, almost serene.
With a fulfilling life behind him, this calm person left us peacefully after he completed the path his Creator laid out for him. As the apostle Paul writes in his letter to Timothy: "I have fought the good fight, I have finished the race, I have kept the faith." (2 Timothy 4:7)
And this should be the point where we list the stations of this race: his various recognitions and awards. But I will not do so, because we were his friends, and we know who Líviusz Gyulai was. Borrowing one of his favourite phrases, "suffice to say" that he was awarded with an Artist of the Nation title, and that says it all. What I would like to talk about instead is Líviusz Gyulai's personality. First, I must say that I have never known a person more lovable than him. One simply could not dislike Líviusz. This was partly because he preserved some of his childhood self within him. That child was born in Barót, Transylvania, brought up by his mother alone, and he not much later moved near Hungary's Western border, to Sopron. He commemorates this in his animation film titled The Small Town of Mine. Then came the chapter of Budapest and the University of Fine Arts, which was of key importance to him and helped him find his path, and the trying times of 1956. Líviusz Gyulai was 19 years old at the time. Then after graduation followed the years, nay decades, when one could only get by in his profession (like many other professions) through spineless, amoral compromises, but he was not going to give in to them.
So Líviusz did not have it easy in his childhood and youth at all, and that could have made him bitter and disillusioned. But he forever remained the inquisitive child, always keen to learn, who can marvel at the world with affectionate curiosity. And by that time, he added to this attention his professionally mature, technically perfectly adept perception, analytical and manual skills of the graphic artist. As he was fluent in any graphic technique from ink drawing and aquarelle to linocut and woodcut to lithography, and as back then, about sixty years ago, Hungarian book publishing still needed illustrators such as him, he also illustrated countless books. As the last Mohican of the great graphic artist generation of the '60s and '70s, he created with incredible diligence and invention.
Líviusz belonged to the old-fashioned, cultured people who still loved and respected books, collecting, cherishing and constantly reading them. He became an avid book collector. I can only imagine the thrill and pride he felt in his youth when he could hold in his hands the first books illustrated with his work. These were created in incomparably minute detail, and featured a fine sense of irony and a somewhat grotesque humour.
His unique sense of humour could truly shine in Líviusz's witty animation films later on. Both his graphic work and his animation films brought him an infinite list of awards, but he never showed them off. Conceit was alien to him, but he was self-aware and knew exactly who he was.
He loved to tell stories, his hundred times recounted, endlessly flowing narratives, these monologues were full of the absurd turns that were also typical of his art.
As we know, there are people who make us feel that they are extraordinarily tiring and they suck all the energy out of us, even after a short conversation, while others seem to recharge us during such encounters. Whenever I met Líviusz, I felt that the serenity radiating from him really charged me up.
Then as he got older, he had countless exhibitions abroad, thanks to which he could visit many places of the world. He could even travel to Cuba and India. The latter trip he made with Emmyke and two friends in 2004 as tourists, entirely privately organised. What his travel companion and friend notes in his journal gives such a typical image of Líviusz: "Lulu keeps buying books for extravagant prices." Because Líviusz was simply called Lulu by his friends.
Lulu had a certain quality, or rather ability that I could only describe as a mixture of naivety and wisdom that I only attached to old Chinese sages before. As irresolute as he could be in practical everyday matters, he had a very strong opinion of everything. And I know that certain things could truly appal him, because he had strong morals. He never compromised in his profession and he never created anything that was below his full ability.
Then we accompanied the coffin to the grave, and after a while I saw the friend who I mentioned step next to the still open pit and drop a playing card in it—a Queen of Spades. He told me that they bought this deck of cards when they were in Jerusalem together. The meaning of the gesture is that we played cards frequently, especially at Easter, which we spent together, and during the summer in Líviusz's house in Ábrahámhegy at Lake Balaton. We played a game in which this card took the main spot, and which we called "Black Lady".
Standing next to the coffin, I somehow felt it unmannerly to talk about how much Líviusz liked to play cards. I felt the matter to be a bit flippant to be brought up at such an occasion, even though it was an important part of his life, as he fuelled his animation films with this passion for games too. He was playing happily when he drew and painted Tinti, Captain de Ronch, Gertrúd, the governess, the debauched guardian angel and finally the wicked children. They are all unusual, irregular, caricatured, and yet became lovable characters in his hands.
As I am writing these lines now, I remember that Líviusz played cards the same way. He had an unusual attitude, and if winning the game is the point of playing cards, then he was a rather irregular player, because his tactics were unreasonable from this aspect. He played to win a trick even when he should not have, and vice versa. Some of his peculiar in-game decisions made us laugh wholeheartedly. We did not laugh at him, but at the strange situation he created. And this laughter was full of love. It was the same kind of love that his films induce in us. At such times he looked at us with a childlike innocence and asked, "why? Is that not right?"
But it is, Líviusz! It is right! It was right! We knew exactly that you played by your own rules, and we could not stop marvelling at how you could even defeat us sometimes, us, who were trying to win the game by playing pragmatically. We could see the same naive wisdom in you that I talked about standing beside your coffin.
György Szemadám
painter, writer