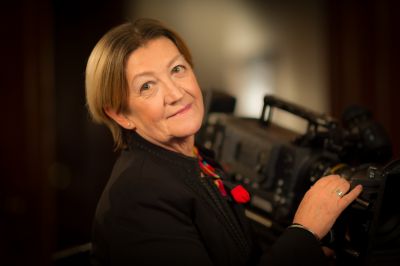 KATARÍNA MINICHOVÁ (1949 – 2019)
Katarína Minichová devoted her whole professional life to Slovak animated film and her ideas, long time expertise, professionality and industriousness left a deep trace in its history. After graduation from the Faculty of Humanities at Charles University in Prague, where she studied at the Department of History, Film Theory and Aesthetics, she started working for the Slovak Television first at the department of audience research and later as an editor, film and animation dramaturge.
She was devoted not only to the author's work and screenwriting but also to film criticism and theory focused on films for children and the youth. She contributed to the production of children's animations, especially to goodnight fairy tales – bedtime stories. TV series belonging to her name are The Smallest Heroes, Dada and Dodo, Waterman Rybka and Trickster Šupka, Figure from the Crossroad or Fairytales from Bratislava. She also wrote screenplays for the episodes Shepherd and the Wind or Krištof in the Land of Goblins of the TV series Fairy Tales from All Over the World.
Many of her works received prestigious awards at home and abroad. She was a member of international festival juries, led conferences as well as workshops. Until 2002 she worked as an elected member of the international Experts Youth Group of EBU and Sponsor Group for Animated Co-productions (European Broadcasting Union). In 2009, she became the vice president of CIFEJ – International Film Centre for Children and Young People and in 2012, she was a member of its board. Between 1993 and 2014 she was a lecturer of screenwriting and dramaturgy at the Department of Animation at the Academy of Performing Arts in Bratislava.
Her name is inseparably connected with the International Festival of Animated Films for Children – Biennial of Animation Bratislava (BAB). In 2006, she became its program director and brought new ideas for each new year that enriched its structure and opened space for a broad international cooperation. She initiated the birth of some interesting activities focused on bringing animated films closer to the general public. Her aim was to show children how the worlds of animation and illustration are  interconnected. Creative workshops for children are one of the most successful activities, the other, Animation Express or BAB Cinema is a cycle dedicated to animated films from Slovakia as well as from abroad accompanied by lively discussion. The festival led by Katarína became an equivalent and recognized partner of many prestigious European film festivals and international institutions. Its rich program including not only screenings but also interactive exhibitions at BIBIANA International House of Art for Children, thematic exhibitions, seminars and discussions as well as informal meetings attracted more and more viewers, local filmmakers as well as foreign guests.
Katarína Minichová and her exceptional personality left a deep trace in the history of Slovak audiovisual culture. The Albin Brunovský Honorary Medal she received posthumously expresses the recognition for her contribution and participation in the field of animated film. 
BAB festival team
IN MEMORIAM...
It was a fairytale-like evening. Thousands of children met on the meadow and there were thousands of TV screens glittering in their eyes and in each of them you could see the most loved animated couple of Slovak television history: Grandpa Večerníček with his little dog. This story was created by Anka Minichová, mother of our Katarína. As a present she gave her daughter love of fairy tales, people and animals. She also passed the dramaturge relay to her daughter, the magic key to bedtime stories. Television brought Katarína a lot of friends, but also some ingratitude. That is how it sometimes works in life, it is different from fairy tales. Katarína used to emphasize that after watching a bedtime story a child should fall asleep happy with a smile on its face. You could find this smile on the faces of all children during that evening. 
The audience and the participants of Animation Express with Slovak animators recently successfully sent by Katarína to European capital cities also smiled. Students of the university whom Katarína taught the secrets of screenwriting were on the board of the express as well.
They brought so much joy. So many animated friends met with each other: Ružová Anička ("Little Rosy Anna"), Papierová Kika ("Paper Kika"), svetobežník Klingsor ("Klingsor the Globetrotter"), moreplavec Kukuk ("Kukuk the Seafarer"), Zvonček a Margarétka ("Harebell and Daisy"), lienka Andulienka ("Ladybird Andulienka"), kráľ Fiškus ("King Fiškus"), Dunajská kráľovná ("Danube Queen"), Kuk a Bubu ("Kuk and Bubu"), and even Kôň so zelenou hrivou ("Horse with a Green Mane") and many other. They all went through the gate firmly supported by the letters B A B. The big ones have to bend down a little – Katarína wrote once with a smile on her face – and look at the world from a different point of view. And there were many of those big ones who came to BAB and to Katka: writers with boxes of scripts, animators from Zlín, Prague, Ostrava, Bratislava and many other cities, actors and producers, cinematographers, editors, sound designers, artists and musicians with their musical instruments you could only imagine. And they all played, sang and spoke so many foreign languages that your ears were buzzing. And suddenly someone asked: Where is Katarína? And there was silence. Just silent silence that only Mr. Andersen could describe. Then someone said, disturbing the silence: Katarína passed away – went to visit her mother in heaven. But she left here the fairy tales and in each of them a part of her heart, so that we won't forget. And we will not forget, dear Katarína. And we want to say thank you.
Rudolf Urc
film director, dramaturge, book author