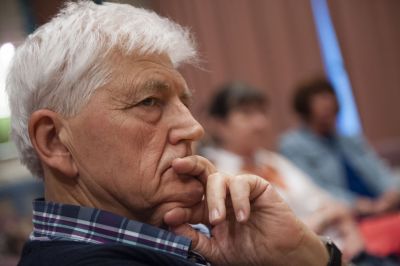 ZSOLT RICHLY (1941–2020)
We only realise how important the presence, the existence of someone or something is when they are not in our lives anymore. Absence makes us appreciate the value they hold for us even more. How true that is when we lose a family member, a friend or a colleague. It changes something in us. Together with the pain of loss, we feel the personal and professional greatness of the deceased even more.
That is how I felt when I heard the sad news that my colleague and friend, Zsolt Richly had passed away. The film tape is broken, leaving only a still image behind. Rewinding the pictures, scenes, we can see the magnitude of the work he has done. He produced and created almost a hundred films. He approached animation film as a kind of applied art. He believed that such films should be created that can be understood by everyone. That is why—abandoning the traditions of Disney—he made films for small children without dialogue, featuring poster-like characters.
I had the good fortune of seeing him drawing among a group of children not only in Hungary, but in Japan, Finland and Portugal. He regarded them as partners in the creation process.
As Lechner did in architecture and Kodály in music, he brought folk art into animation films. Perhaps not many know that in his 1968 film titled Suite, it was him who transformed folk motives into fine art symbols for the very first time.
He liked experimenting in art, and he was a true expert of colors. Many people asked him to design the characters, backgrounds, and the colour dramaturgy of their films. In one of his films, titled Anna Molnár, he reduced the palette to merely four colours, and he made Stonemason Kelemen in black and white.
He created animation films in many genres: he made commercials, he adapted folk songs and ballads to film. He shot television series for children and for adults, as well as full feature films.
On some occasions, he was capable of carrying an idea for a film for a decade. The same thing happened in the case of Luther. He was interested in the ruminations, inner struggles of Luther. Following his own long deliberations, Zsolt realised the series in the end, with an enviable confidence in his value judgement.
After Pannonia Film Studio, Zsolt Richly chose in 2003 to become a part of the creative community of the animation studio in Kecskemét. We worked together for a full seventeen years. Following Luther, he contributed to the animation series Toldi.
I often turned to him for advice, and he always said something useful, something brilliant. He helped develop a direct connection between the Kecskemét studio and the Moholy-Nagy University of Art and Design.
Zsolt liked visual metaphors. As he put it, his work was the miracle of transformation. In so many cases, his films were born, became complete in us, in our imagination.
Now the greatest animator of all—the Creator—has carried out the miracle of transformation with Zsolt Richly.
Ferenc Mikulás
festival director