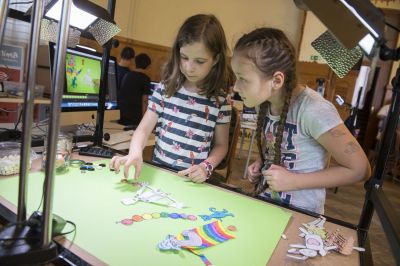 12–14 August, Thursday–Saturday 9:00 am, Youth Centre / Mirror Hall
"What is a zoetrope? And a thaumatrope? What about pixilation? Can I draw it? Can I spin it? Can I play with it?" 
The youngest fans of cartoons can get acquainted with the magic of animation filmmaking at the Primanima Animation Fun Zone. 
During the 90 minute sessions the diverse world of animation provides a base for the development of children's creative abilities. They can learn how to creatively use digital tools, while at the same time the instructors can take them back to the love of traditional materials and techniques. Kids can try out a variety of techniques, including hand drawn, puppet, clay, lego, paper-cut, and digital animation and they can also create the soundtrack of their films.The Fun Zone's touring caravan is equipped with modern computers, cameras, lightings, and stop-motion tables and its experienced art educators and animators organizes weekly courses the Budaörs Animation Base and Creative Space, but they also travel around Hungary and to abroad.
The sessions are led by Sára Antal Fórizs, Luca Módy, Miklós Imre Nyulas, Tamás Patrovits, Panna Pincési és Tamás Vezsenyi.