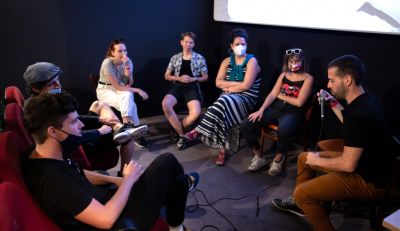 12 August, Thursday 1:00 pm, Hírös Agora / Room Nr. 32.
Musical awareness workshop specifically aimed at emerging filmmakers (directors, screenwriters, editors) and composers. The goal of the playful, interactive musical program is to help filmmakers develop their sound and musical concepts in a more conscious way, showcase the possibilities of character development through music, the hidden capacities of the soundtrack and to provide a toolkit for better communication between the director and the composer. The workshop requires no previous musical training. The participants only need to bring their creativity, the playfulness of their inner child to learn and unlock the storytelling potential of film scoring and sound design.  Participants will also have the opportunity to have an in-depth discussion about the sound and music world of their current projects. The program starts with a lecture called "Communication and Creativity in Film Scoring", followed by an interactive workshop that includes quick analyses, creation of sound concepts, learning about music genres, rhythmic games, and it ends with a consultation. 
The workshop is led by Balázs Alpár, composer, lecturer, member of the European Film Academy. He is the in-house composer and sound designer of KEDD Animation Studio and his company Mediazene.hu which specializes in media scoring is operating inside the renowned building of Pannonia Film Studio. He has recently created music for the docu-drama Ultra (shortlisted for the European Film Award 2017), for AMC Networks' JimJam channel, for the animated series The Grickles and Fledglings, for the WWF image film Paper World, and for the 2021 Oscar-qualified animated short Matches.